ISO 100, 75mm, f/10, 1/6 sec
Waterfalls are one of my favorite things to photograph.  Usually I use a neutral density filter to take these photographs, but it was raining and overcast so I was able to get the appropriate exposure through adjusting the aperture.  To be honest I was also to lazy to get out a filter and put it on in the rain.
ISO 320, 34mm, f/22, 4.0 sec
This was a little trail side waterfall on the Stout Grove Trail in the Jedediah State Park.  It was raining, my shoes were soaked from walking through lots of standing and running water on the trail and I was freezing!  I took several shots and realized I had many water drops on my lens.  I cleaned it off and was able to get a few shots before they accumulated again.  Luckily I had an umbrella and my tripod, so I was able to set up the camera and hold the umbrella over the setup to keep it relatively dry.
ISO 100, 24mm, f/22, 1/5 sec
This waterfall was about 50 feet in height or more.  It was along side highway 199.  I saw this waterfall as we drove past so of course I had to turn around and get a photograph.  This is one of those road side waterfalls that I believe are only here when it rains a significant amount.
ISO 100, 24mm, f/22, 1.0 sec
This is one of the waterfalls in the Redwood Nature Trail in the Siskiyou National Forest.  This is the northern most coastal redwood stand just down the road from the Alfred Loeb State Park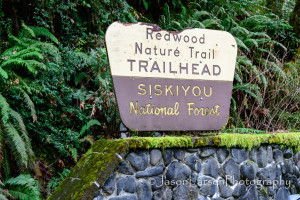 I had heard about this stand of Redwoods from my colleague Rob Ewing.  He had been over to the coast to take photographs earlier this year and told me about this place east of Brookings, OR.
I will be sharing photographs of the redwood trees in a later post.
ISO 100, 28mm, f/10, 0.6 sec
I was a little crazy to get this shot.  I set the camera up on my tripod pointing down then without extending the legs I held it up against the side of a bridge with the camera hanging over the edge….
ISO 100, 31mm, f/11, 2.5 sec
This isn't the bridge I was hanging the camera over, but it was exactly like this one.  The loop trail through the redwood stand has several of these bridges that cross this picturesque creek.
So to review waterfall photographing technique.  You want a low ISO setting, a small aperture and a slow shutter speed, somewhere between 1/5 sec to 5 or so seconds.  To achieve this you definitely need a tripod for stability, a delayed shutter release to eliminated camera shake, combined with exposure delay if your camera has this feature, and if it is a bright day a neutral density filter.
ISO 320, 420mm, f/5.6, 1/640 sec
This waterfall photograph breaks all of the rules.  One I am using a relatively large aperture, two a fast shutter speed and three a very long focal length lens.  This waterfall was at Cape Arago.  Cape Arago is just north-west of Coos Bay, OR.  I took this shot looking across a large inlet cove.  It was stormy and so the air was misty, and raining.  I was using my 300mm f/4 with the 1.4x teleconverter to take photographs of some sea lions.  While I was doing this I noticed a waterfall a long way off across the cove.  I'll share the other cool photographs of the rock formations, storm waves and sea lions in another post soon.
Here are the rest of the waterfall photographs from the trip.
Enjoy!