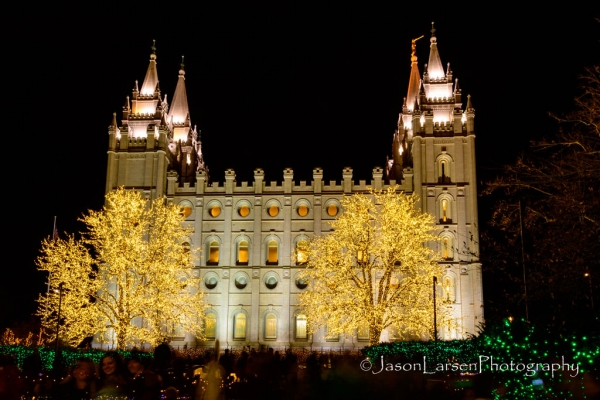 The Saturday after thanksgiving, I went with my brother Jon and his family, to Temple Square to see the annual Christmas lights in downtown Salt Lake City, UT.  it was a warm evening and only the second day the lights were turned on.  This made for some huge crowds.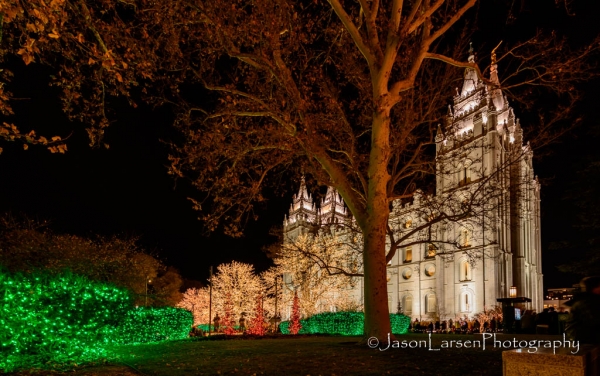 As I was trying to photograph the lights with my wide-angle zoom, it was impossible to not  have people walking in front of your lens.  So in these situations what do you do?  Use a long exposure.  The 14-24mm lens from Nikon is a work of art. It has a constant F/2.8 aperture and is crystal clear wide open.  Usually when you are photographing in low light you would pick a large aperture and a higher ISO.  I initially started shooting this way, but I quickly found out this wasn't going to work with the large crowd.  After a few frustrating shots where people would walk in front of my lens blocking some of the scene I started playing around with longer exposures.
I found that a shutter speed of 13 seconds allowed for most of the people in the shot to blur out due to movement which in turn allowed the background be revealed.  Using this long of a shutter speed required some adjustments to the other variables of exposure so the bright Christmas lights weren't overexposed.  The D800 has the ability to go to an ISO of 50.  This adjustment makes the sensor less sensitive to light.  Another necessary step was using an aperture above f/14 to restrict the light coming into the lens.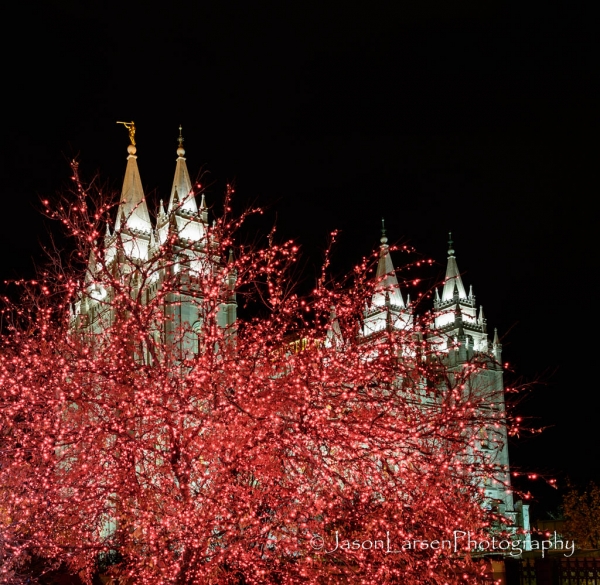 You can't tell from the end result, but this shot was taken standing right by some stairs.  People were constantly walking in front of my lens.  But because they were always moving it allowed them to blur out and the pink tree lights to show through.  As we were standing looking at the temple with this pink tree in front of it my Sister in law remarked that this photograph would be great for her daughter's wall.  My daughter's favorite color is also pink so I should probably print one of these out for her bedroom wall as well.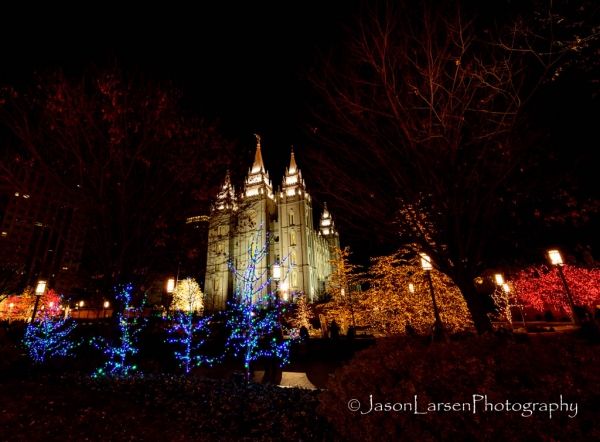 This photograph doesn't do the blue and green lights justice. They were definitely my favorite colors of Christmas lights.
I hope you found this helpful for future night photo shoots in crowds of people.
Please follow and like us: